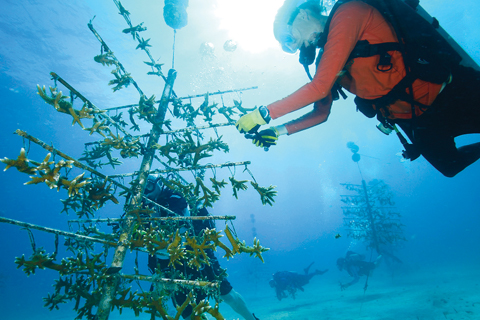 Rescuing coral reefs is a team effort. That's why the University recently collaborated with the National Football League and others to help build a coral restoration site.
Scientists from Rescue a Reef, a program of the Rosenstiel School of Marine and Atmospheric Science, joined forces with the Miami Super Bowl Host Committee, NFL Green, FORCE BLUE, Phillip and Patricia Frost Museum of Science, and Verizon Wireless to augment the coral colonies of Key Biscayne's Rainbow Reef with some healthy new neighbors.
Rescue a Reef employs science-based techniques to grow threatened coral species in underwater nurseries, creating a sustainable source of healthy coral colonies for restoration.
In a classroom briefing held before the restoration dive, Dalton Hesley, M.P.S. '15, senior research associate in the Rosenstiel School's Department of Marine Biology and Ecology and lead diver for Rescue a Reef, demonstrated how corals are harvested and attached to existing reefs. "The staghorn thicket we build," he explained, "will become a catalyst to seed the surrounding coral reefs."
A component of the host committee's environmental campaign Oceans to Everglades (O2E), the coral restoration project commemorates the NFL's 100th season and its mission to leave a legacy of sustainability in Miami, which will host Super Bowl LIV on Feb. 2, 2020.
To date, Rescue a Reef has planted over 15,000 corals off Miami-Dade County, including the approximately 100 staghorn corals that now compose the Miami Super Bowl Host Committee Reef.
---
The University of Miami will host a symposium in January focused on examining extreme weather events and the impacts of climate change, along with how to prepare for and manage risks associated with those events.
The three-day symposium—Miami Climate Symposium 2020: Predicting and Living with Extremes—from Jan. 22-24 will feature scientists and researchers from the University of Miami and experts from other universities and government agencies. After two days of research and scientific discussion at the Rosenstiel School of Marine and Atmospheric Science, the symposium will conclude with a keynote and panel discussion on the Coral Gables campus that will be open to the public.
The symposium will look at how hurricanes, storm surge, and coastal flooding are being impacted by sea-level rise, extreme heat waves, and other climate events. Participants will also explore how to respond to extreme events on the local level..