by

CHRISTY CABRERA CHIRINOS
WHEN HOWARD SCHNELLENBERGER ARRIVED AT THE UNIVERSITY OF MIAMI, HE TOOK ONE LOOK AT HIS NEW PLAYERS AND MADE THEM A PROMISE. "I knew we were on a collision course for the national championship, so I said, 'Get in there, put your hats on, get your football shoes on, and let's go practice. Let's roll. Let's go work and work and work and, if we do that, we'll become winners very quickly,' " Schnellenberger recalled in 2019. "And so, it came to be."
Schnellenberger, who in 1983 led the Hurricanes to their first of five national championships and helped revolutionize college football, died on March 27. He was 87 years old.
At Miami, where Schnellenberger took over as coach in 1979 and laid the foundation for four national championship titles in nine years, the coach is remembered for more than the work he did on the field.
"That first meeting with him changed my life," says former 'Canes center Don Bailey Jr., who played for Schnellenberger and is currently the radio analyst for the Miami Hurricanes football team.
"It was a demand, not a negotiation, that we were going to win a national championship. It wasn't about hoping or believing a fairy tale. We were there for that, and for all of us that he coached, he changed our lives. That first meeting set the course for his history and changed the history of the University of Miami," Bailey continues.
Schnellenberger was "the face of Hurricanes football," says Jay Brophy, a former Hurricanes linebacker. "Without him, I don't know where I'd be. He helped me believe anything was possible if you were willing to work for it. He was the role model for all us young men—tough, strict, and most of all, honest. He was totally loyal to his family and his team and was the best, smartest football coach I ever played for."
For much of his career as a college coach, Schnellenberger was recognized as a program-building pioneer. Before he took over at Miami in 1979, the team was floundering, and the school had discussed the possibility of either playing at a lower level or eliminating football completely.
Four years later, Schnellenberger's Hurricanes upended the college football establishment, edging powerhouse Nebraska 31-30 in an Orange Bowl thriller to win the national title.
He brought to Miami a pro-style passing attack he'd honed as the offensive coordinator for the Miami Dolphins during their 1970s glory days and made it a priority to build his roster with players from South Florida, recruiting from Miami-Dade, Broward, and Palm Beach counties in a way no program had before.
Today, the bulk of the Hurricanes' roster still hails from the "State of Miami," and current head coach Manny Diaz has made it clear that keeping South Florida's best players at home remains one of his biggest priorities. "I don't know that there is Miami football without Howard Schnellenberger, not the way we know it," Diaz says. "It's hard to imagine the state this program was in when he came here. If you look historically throughout college football, there are the blue bloods, and it's very, very hard to join that group. Howard Schnellenberger came here, and he took down the establishment... . You could talk about the football program, [but] he elevated the entire University to a different status in the country. And the entire Hurricanes community will be forever in debt to him."
President Julio Frenk emphasizes that Schnellenberger's legacy far transcends the football field. "His vision, resiliency, and ability to bring people together continue to inspire us at the University of Miami," Frenk says. "Our hearts go out to his wife, Beverlee, and all of his loved ones."
Schnellenberger left Miami to return to his hometown of Louisville, Kentucky—and began revitalizing the football program there. The Cardinals had suffered six straight losing seasons before he arrived. Yet by the time the mustached, boomingvoiced coach left, the team had notched a pair of bowl wins, including the program's first appearance in a New Year's Day bowl game.
In 1998 Schnellenberger was named the director of football operations at Florida Atlantic University in Boca Raton. He built the program from scratch and became the Owls' first coach, leading them from FCS status to, eventually, the 2007 Sun Belt Conference title.
In his 27 years as a college coach, Schnellenberger compiled a 158-151-3 record. He was inducted into the University of Miami Sports Hall of Fame in 1993 and, on the day of his death, all three of the programs where he left such an indelible mark—Miami, Louisville, and Florida Atlantic—honored him with a series of tributes.
"I always dreaded this day, that the Hurricanes and all of Howard Schnellenberger's players would be without their coach," says Bailey. "But then I realized that for everybody who played for him, for everybody who knew him, for everybody who was associated with him, he would always be with us for the rest of our lives.
"It's easy to talk about his football success, that's the easy part to see," Bailey continues. "What you don't see are literally the thousands of lives that he saved, the thousands of boys he turned into men, the thousands of kids that without his guidance would have gone the wrong way instead of the right way."
Former 'Canes defensive lineman Ed Hudak, B.S.C. '87, M.A.L.S. '10, now Coral Gables chief of police, especially remembers his former coach's leadership example.
"When you see the head coach has a cot rolled into the coaches' locker room because he doesn't go home during two-adays, you realize the commitment he has," Hudak says. "I learned about commitment from him, and I use that lesson every day in my job with the police department."
Schnellenberger is survived by his wife Beverlee; his sons Timothy and Stuart; his grandchildren Joey, Marcus, and Teather; and his great-grandchildren Tyler, Lacie, and Harper Ann. He was predeceased by his son Stephen and great-grandson Angel.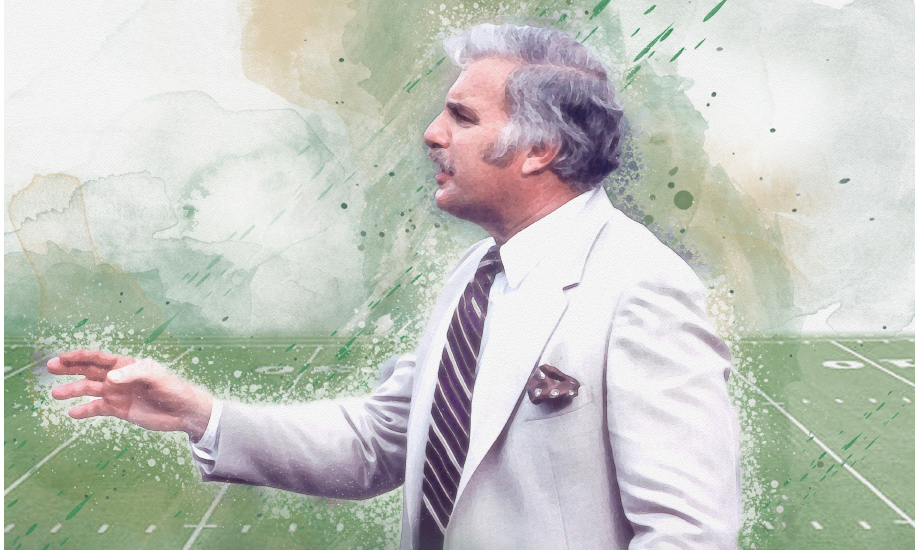 The entire Hurricanes community
will be forever in debt to him.