---
MARIO CRISTOBAL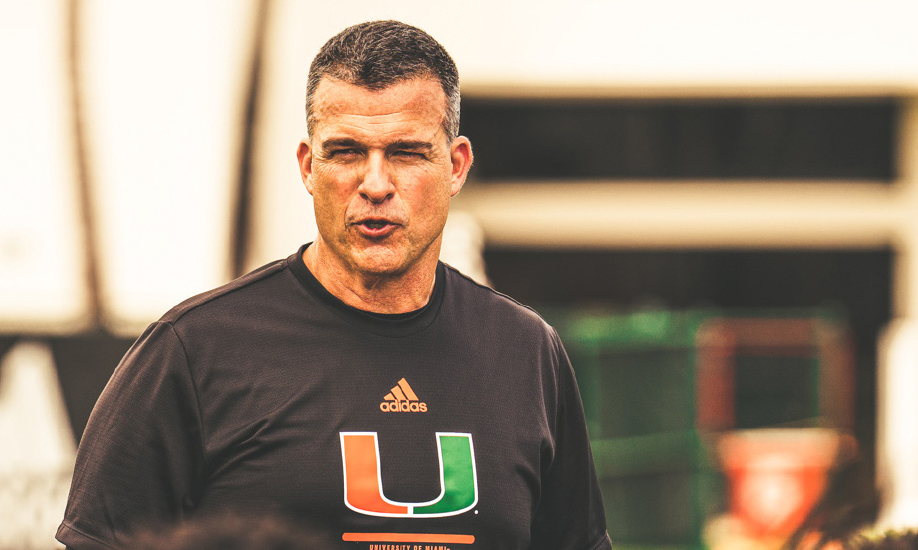 Mario Cristobal, B.B.A. '93, M.A.L.S. '99, never needed a playbook to learn tenacity or the value of hard work.
Long before he ever strapped on shoulder pads for the Miami Hurricanes, he embraced such qualities just by watching his Cuban-born mother and father, who were working two jobs to put food on the table, attending night school to learn English, and studying American history and government to become citizens of the United States.
"Being removed from their homeland and their families, not knowing the language, having to start from scratch in another country—they faced it all. And all they did was just buckle up, grind, go to work, and make absolutely zero excuses," Cristobal recalls of his late parents. "They held themselves to the highest of standards, then demanded nothing short of excellence from us," he says.
The 'Canes faithful are hoping Cristobal, who won two national championships as a starting offensive lineman for the Miami Hurricanes, can impart some of that no-excuses ethos on a program that has been mired in mediocrity for most of the past two decades. When he was introduced as Miami's 26th head football coach last December, expectations for the program soared— and for good reason. With two Pac-12 championships, a Rose Bowl victory, and top-10 picks in three straight NFL Drafts under his belt during a four-year stint as head coach of the Oregon Ducks, Cristobal brings a high-powered resume to Miami, one that also includes time spent under the coaching tutelage of Alabama's Nick Saban.
So far, Cristobal hasn't disappointed. Almost immediately he gave fans a glimpse of just how hard he will work, hitting the recruiting circuit with only eight days left until early signing day and salvaging a 2022 class that's now been ranked 15th in the nation and third in the Atlantic Coast Conference by 247Sports.
"Mario's the best recruiter in the country," says Fernandez. "He was recruiting talented student-athletes to Oregon, and there are no direct flights to Eugene. It's a beautiful part of the country, but it's hard to get to."
"We envisioned what Mario could do if he were here in South Florida, which is a hotbed for college football talent," Fernandez continues, "So, when the opportunity presented itself to bring someone of his experience and talents back home, it was too good to pass up. And everything he's done since arriving has exceeded our expectations. He's going to be transformational for our program."

MIAMI BORN AND BRED
Cristobal grew up in Miami, playing football at Christopher Columbus High School. His father, Luis, who was a political prisoner under the Castro regime, met his wife, Clara, in South Florida. And together, the two instilled lifelong values in Cristobal and his older brother, Lou.
Fond memories for Cristobal include helping out at the car battery and electric business his father started from nothing in Hialeah. Ted Hendricks, the former Hurricane defensive end who attended Hialeah High School and went on to star in the NFL, would often stop by the shop.
Cristobal bled orange and green long before he donned the split-U, attending open football practices on the Coral Gables Campus as a teenager to watch the Michael Irvins and Jerome Browns of the program. Sometimes, that meant biking or hitching a ride from a friend.
"I'd get there however I could," Cristobal remarks. "I saw the way those guys stayed after practice, the time they put in, the grinding and the repetitions, the one-on-ones and competing against each other."
I'm devoted to it, and it's not just the coaching, but always the University of Miami. I bleed it. Cut me open; it's orange and green inside.
As a freshman recruit in 1988, Cristobal played as a reserve along the offensive line after a redshirt year. He had always set his sights on cracking the starting lineup.
Always a quick study, Cristobal adjusted to discovering what he calls "the secret sauce" to the Miami program's success: brotherhood and competitiveness.
"While I saw all this stellar talent around me, I realized that these guys were all about competition. They wanted it, they thrived on it, and they pulled me into it," he explains. "It didn't mean they took it easy on me. They made sure I knew how good they were. They competed against you and with you, but they never made it threatening. It was a brotherhood. They understood that competing was the only way to maximize our potential as a football team and as a program, and that was as eye-opening and as enlightening as it could get. I had never, ever seen that level of brotherhood tied into competition."
For two seasons, Cristobal played side by side on the offensive line with his older brother.
"Growing up, we were always competing against each other," Cristobal says. "To earn scholarships and eventually be on the same field and play together, which we never got to do in high school, was one of the biggest goals we had set for ourselves."
Even as Cristobal helped the Hurricanes win the 1989 and 1991 national titles, both under Coach Dennis Erickson, he always kept an important lesson close to his heart: that playing football was not a right but a privilege. "It was not something you were entitled to—it was a privilege that had to be earned." he asserts.

REALIZING HIS CALLING
Cristobal applied that same philosophy when he went into coaching. "Along with that comes an obligation to have a positive impact on those around you," he says. "It's a 24/7 thing, man."
No one knows that side of Cristobal better than Bryant McKinnie, the Outland Trophy winner and All-American offensive lineman who was an integral part of Miami's 2001 national championship squad. Cristobal served as a graduate assistant coach on that team, often pulling some of the offensive linemen aside after practice to study videotape of the top edge rushers they would face and discuss blocking techniques.
"That was the way coach Cristobal was—always analyzing ways to get an advantage," McKinnie says. "He always took that extra hour."
In Cristobal, McKinnie could see an elite coach in the making, one who left no stone unturned. "He taught us that our diets could make us even better," he says. "Oatmeal and hardboiled egg whites—that's what he told us to add to our diets. But we told him, 'We don't eat that, coach.' But he was right. He programmed good nutrition into us, and it helped."
It was a coaching career—which has included stops at Florida International University, where he led the Panthers to a Sun Belt Conference title, and Alabama, where, as the offensive line coach, he helped the Crimson Tide win a national championship in 2015—that almost never took off.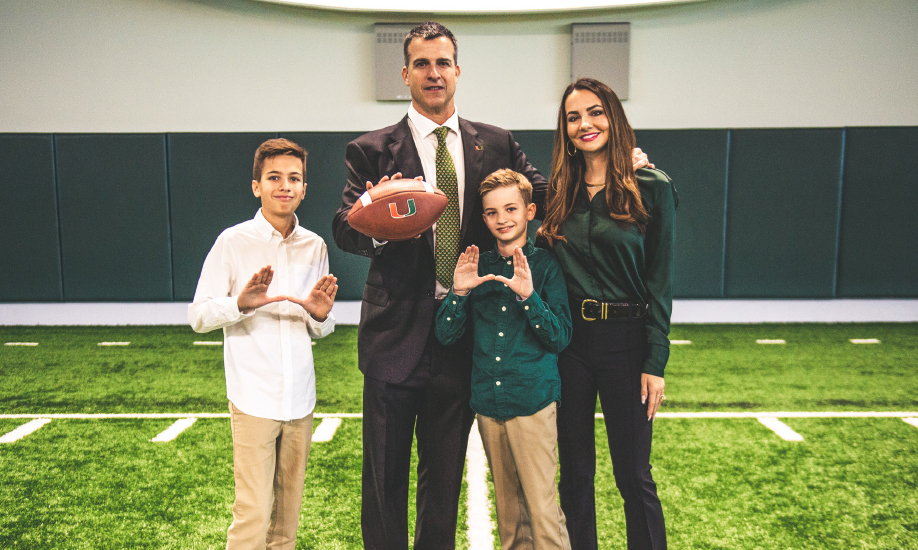 After graduating from the University in 1993, Cristobal played two seasons for the Amsterdam Admirals of NFL Europe before retiring to pursue coaching. He latched on as a grad assistant under then-Miami head coach Butch Davis in 1998, but that same year was on the brink of accepting a job with the U.S. Secret Service. He had said his goodbyes to the Hurricanes, but at the last moment, he had a change of heart.
"I had become addicted to teaching, addicted to making an impact on the lives of student-athletes," Cristobal admits. "I felt like I was finally hitting stride with what I wanted out of life, and that was to make a difference. I'm devoted to it, and it's not just the coaching, but always the University of Miami. I bleed it. Cut me open; it's orange and green inside."