COMPILED FROM STAFF REPORTS PUBLISHED BY THE OFFICE OF UNIVERSITY COMMUNICATIONS AND THE DEPARTMENT OF ATHLETICS.
IT DIDN'T MATTER THAT CASSAUNDRA WIMES HAD TO DRIVE NEARLY A THOUSAND MILES TO GET THERE; SHE WAS DETERMINED TO BE A WITNESS TO HISTORY. THE MIAMI HURRICANES WOMEN'S AND MEN'S BASKETBALL TEAMS WERE PLAYING IN THE ELITE EIGHT AND FINAL FOUR, RESPECTIVELY, OF THEIR NCAA TOURNAMENTS FOR THE FIRST TIME IN PROGRAM HISTORY.
"This is surreal," said Wimes, B.A. '98, M.S.Ed. '00, a University of Miami adjunct professor and former Hurricanes basketball player, from Houston a day before the men's team took on the University of Connecticut Huskies at NRG Stadium. Only a few days earlier, she was in Greenville, South Carolina, to watch the women's squad play the Louisiana State University Tigers.
"It's every college basketball player's dream to play on this stage," Wimes said.
She was among the thousands of Hurricanes fans who experienced the historic run of the women's and men's basketball teams this season—many attending team send-offs and watch parties for the Sweet 16 and Final Four rounds, others making the trip to multiple cities around the nation to see both squads compete.
Diehard 'Canes fan Andres Perez sold some of the prize possessions in his extensive sports memorabilia collection, including a Tom Brady-autographed football helmet, to buy his Final Four tickets.
Alumni, including University Board of Trustees member Carlos Guzmán, B.B.A. '84, attended watch parties all over the country.
Undergraduates Rohin Vaidya and Benji Shokrian attended every NCAA Tournament game in which the men's team competed this season, never missing a class during their travels to three cities in two weeks.
And other students traveled to Houston in droves after quickly snatching up the 700 student tickets that were distributed for the Miami-UConn game through the NCAA.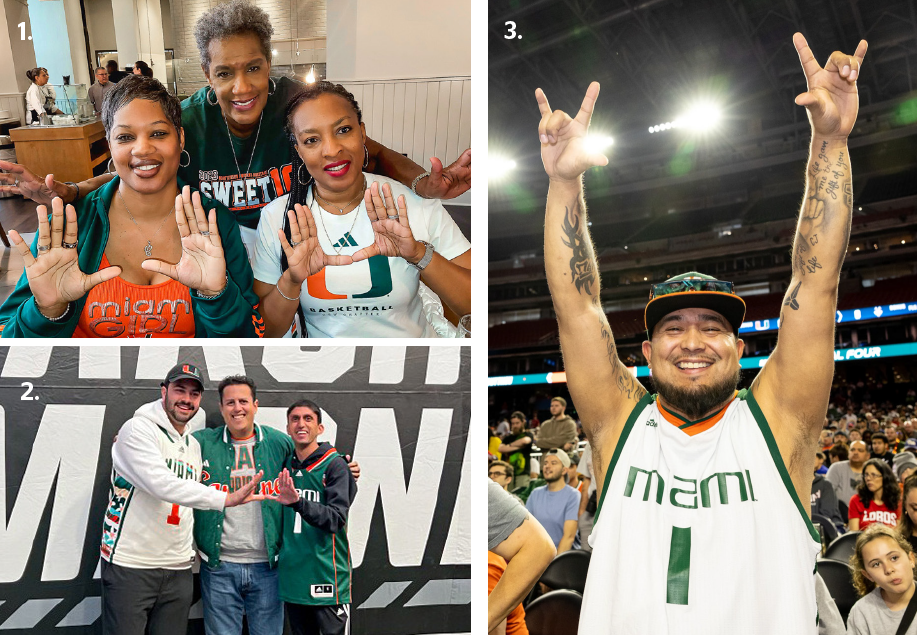 The men's basketball team's dream season would come to an end after a 72-59 loss to UConn in the second of two Final Four games at Houston's NRG Stadium on April 1. The team (29-8, 15-5 in Atlantic Coast Conference play) finished third in the USA TODAY Coaches Poll, accomplishing the best year-end ranking in program history. Meanwhile, the women's team (22-13, 11-7 ACC), which fell to eventual national champion LSU 54-42 in the Elite Eight, finished its record-breaking season ranked No. 18 in the USA TODAY Coaches Poll.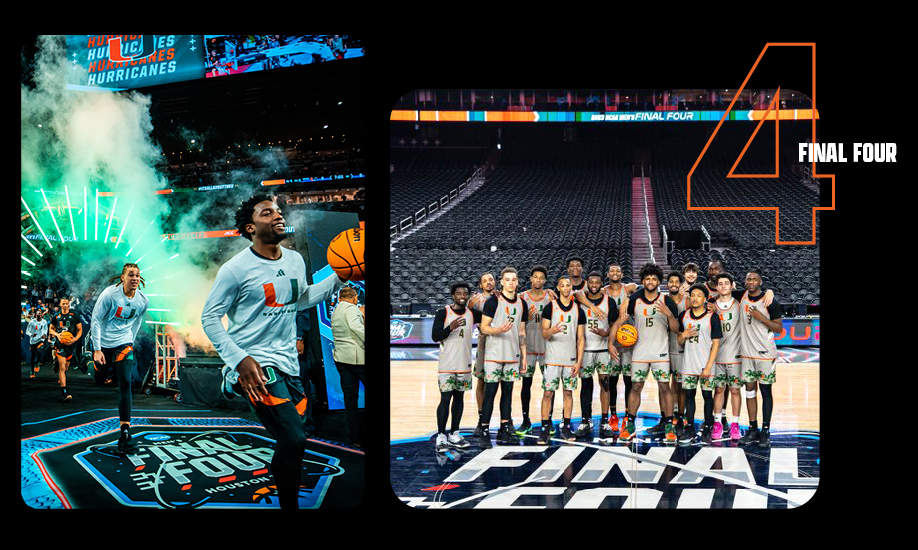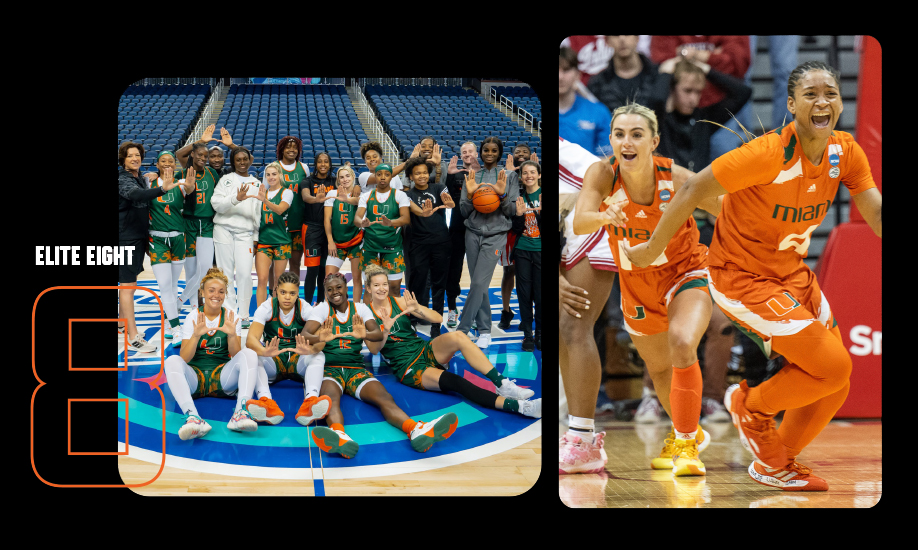 For the student-athletes on both teams, their magical March Madness runs will be long remembered. "It was amazing, to say the least," said sophomore guard Jasmyne Roberts, who averaged 19 points and 7.3 rebounds per game during the NCAA Tournament and was named to the Greenville 2 All-Region Team. "We really made history, and we did something that no team at Miami that's played for [head coach Katie Meier] has done here. We've got to hold our heads high on that. It meant a lot to have everyone's support and everyone cheering for us," she said.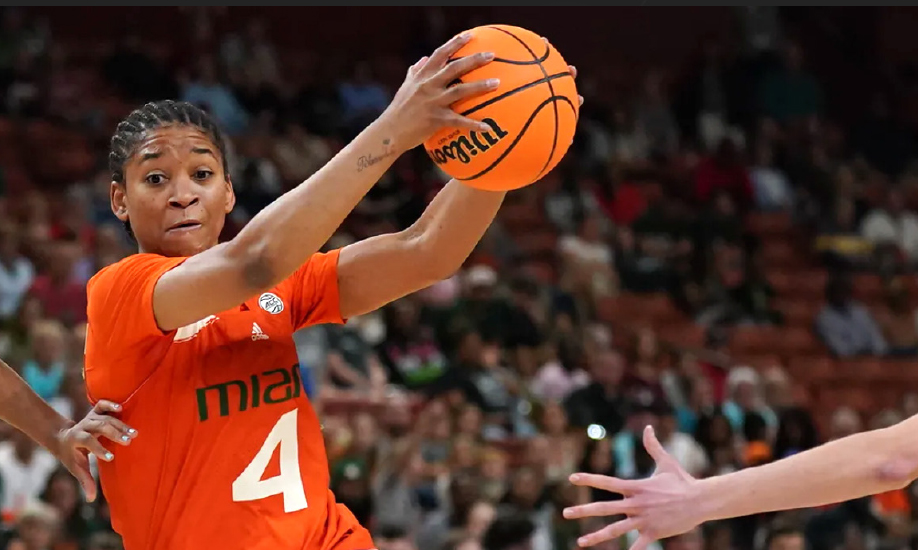 We really made history, and we did something that no team at Miami that's played for [head coach Katie Meier] has done here.
"Now that everything's been soaked in, I think it's kind of crazy. Because when you think about it, this hadn't happened in 30 years," said graduate student forward Destiny Harden. "That's before I was born. I keep saying that to myself; it took all of us to be born to make some history." The players credit their head coaches, Jim Larrañaga and Katie Meier, both of whom have amassed hundreds of wins during their coaching stints at the University, as the pivotal reasons for the success of both programs.
"Miami basketball is not something to play with," said Hurricanes guard Jordan Miller, who earned second-team All-ACC recognition on the men's side after averaging 15.1 points, 6.1 rebounds, and 2.6 assists per game during the regular season. "Coach Meier and Coach L have done a great job of getting both these teams to levels where we can compete in the NCAA Tournament." Indeed, Miami became the first school to have its men's and women's teams reach the Elite Eight in the same year, with neither team a top-four seed.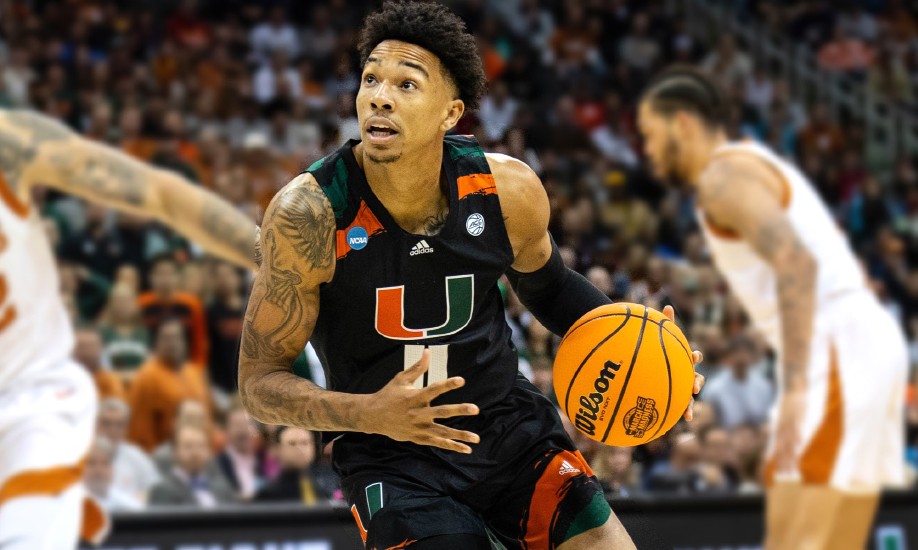 Coach Meier and Coach L have done a great job of getting both these teams to levels where we can compete in the NCAA Tournament.
While the players attribute the stellar season to their coaches, Larrañaga and Meier praised their players for the miraculous season.
"When they had an opportunity, they kind of kicked the door down," Meier said. "We've had other teams that might have been ranked higher. But this particular team, [when] there was an opportunity, there was a little crack, they were like, 'Let's kick it open.' And that's why I'm so happy for them, because they were not intimidated by any matchup, and they just went for it. Nothing to lose, everything to gain. It was fun."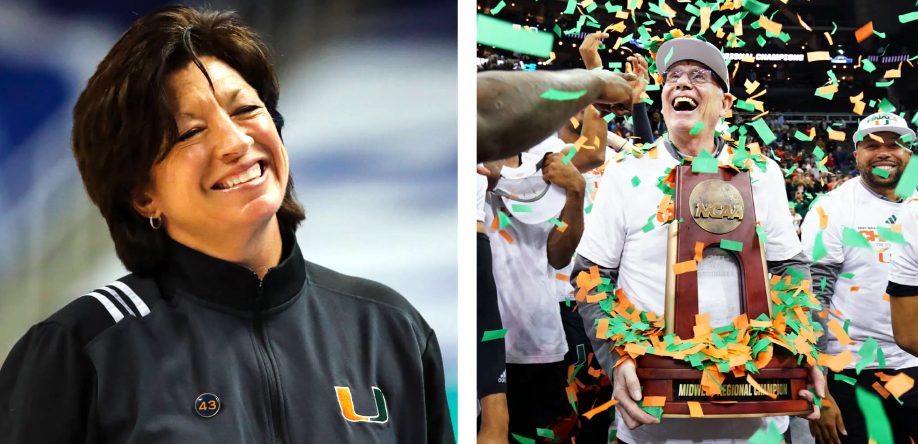 After the loss to the Huskies, Larrañaga said his players "got the message that I was so proud of them, that I loved them, and that I'd really just been on a magic carpet ride with these young men. They're so much fun to be around, on the court and off the court. They'll have great memories of the entire season and some of the great wins we have had. I told them all along these memories last a lifetime. You'll be telling your grandchildren about it one day."
For Larrañaga, the season was also historic on a personal level. The last time he had taken a team this far in the postseason, he was head coach at another school in another city in another state and in a different time.
It was March of 2006, and the then-56-year-old Larrañaga had led his 11th-seeded George Mason men's basketball team to an improbable Final Four berth, defeating No. 2 Uconn 86-84 in overtime in an Elite Eight matchup.
Seventeen years later, he was back in the Final Four, but this time as head coach of the Miami Hurricanes men's team. In fact, the entire 2022-23 campaign he led was historic on all fronts. Such as how way back in October, his squad was picked to finish fourth in the ACC conference, behind Virginia and basketball blue bloods North Carolina and Duke. Yet, the team went on to defeat all three of those schools during the regular season on its way to capturing the conference championship. And how the Hurricanes, listed as underdogs to Indiana, No. 1-seed Houston, and Texas in NCAA Tournament games, knocked off all three to reach the coveted Final Four.
Perhaps University of Miami President Julio Frenk, in an emailed letter to the 'Canes community, said it best: "The grit, determination, and resilience with which our student-athletes have played this season, and during this tournament, are to be admired."