'Star Wars' Fan Has Fun Following His Passion
Growing up, Mitchel Berger, B.M. '93, was a self-described "massive 'Star Wars' nerd." He saw all the movies and had, as he puts it, "all the toys." It has been part of his life for as long as he can remember—and it has left a profound imprint.
Now, as senior vice president of global commerce for Crunchyroll, Berger does what he loves best: Use his deep understanding of what it means to be a fan to serve the worldwide community of anime fans.
A Japanese form of hand-drawn or computer-generated animation, anime has exploded in popularity since the advent of the Internet and streaming media. With its distinctive visual style and storytelling, anime has gained hundreds of millions of fans around the world.
A subsidiary of Sony, Crunchyroll is a major destination for anime fans, with its streaming subscription service, theatrical distribution, games, licensing, merchandising, events, and collectibles. Berger oversees the company's consumer products and merchandise, content sales, and theatrical businesses.
For Berger, anime's legions of fans and ethos of belonging are the keys to its success. "When you look at the themes of anime, and the stories, everything is about community and belonging and being part of something bigger than oneself," he explains. "And [anime represents] this place where people can share their interest in this art form and find their group—it's the connective tissue."
This understanding of fan culture, and the importance of anime in fans' lives, derives from Berger's experience as a "Star Wars" fan.
It's so much easier to sell something that you're passionate about.
"Coming into the anime world, I understood what it's like to be an uber fan, how it's part of your identity, and how you relate to people," Berger says. "I know what it's like to meet someone and talk to them for hours about a particular film. So, I want to be able to enable those experiences for [Crunchyroll's] fans. And it's so much easier to sell something that you're passionate about," he adds.
At one point, as a teenager, Berger wanted to be a rock star.
"I wasn't talented enough to do that, but I love music," he says, laughing. At the University of Miami, he studied in the music industry program at the Frost School of Music. "I was there from 1989 to 1993, which was a fun four years because we got two national championships [in that time]," Berger recalls. "I was in the Band of the Hour, lived on campus the whole time, and just had an amazing experience and learned things that I still use in my everyday life, both personally and professionally."
Berger cites the late Alfred Reed, professor of music and director of the music industry program at the time, as being particularly influential. "He was this accomplished composer and musician [who] helped show me that the business side of entertainment is every bit as fulfilling as performance," Berger says. "I thought, there's a career that could be had here."
It's no exaggeration to say that Berger relishes his job at Crunchyroll. "I love what I do," he says. "We're not curing cancer, but we are bringing small moments of joy to people's lives every day. We're helping people connect over a shared passion, and those connections can be very deep and long-lasting. That's what makes it all worthwhile."
---

Mother-Daughter Duo Brings Dreams Within Reach
A pair of newly minted Hurricane alumnae are bringing new meaning to the saying "like mother, like daughter." Two decades after earning her first degree from the University of Miami, 46-year-old Paula Boling decided to fulfill a lifetime dream and return for another degree, inspiring her daughter, 24-year-old Margarita Espinal, to do the same. The two walked together at commencement last December.
For Boling, B.H.S. '00, B.S.N. '22, it was a dream deferred. "I attended the University of Miami in the 1990s and graduated with a health science degree, then I married a soldier, started a family, and postponed my dream of becoming a nurse," she explains.
Instead, Boling spent several decades raising a family and working in the legal field. "And then came the pandemic; so much changed for so many people that I knew I had to go back to school to help others and to make a difference. Being a part of the U stands for the commitment of being a lifelong learner, so deciding to become a student again was not such a big leap," Boling says.
The motivation for Espinal, B.S.N. '22, was straight from the heart. "I've always wanted to study with my mom because she's my best friend, and I've seen her dedication with anything she undertakes," explains Espinal. "She's a hard worker with a brilliant mind."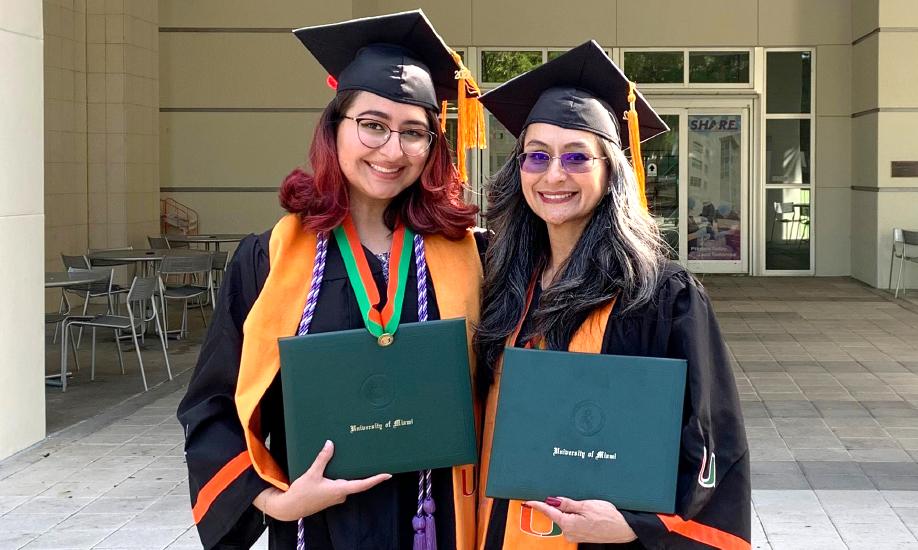 The two enrolled in January 2022 in the 12-month Accelerated Bachelor of Science in Nursing (A.B.S.N.) Program at the School of Nursing and Health Studies. The program is extremely challenging, but the mother-daughter duo proved the adage that two are better than one.
"Together we were able to stay strong and encourage each other," says Boling. "What is amazing is that we became stronger alongside each other with the help from the best professors. Completing nursing school with my daughter was a once-in-a-lifetime opportunity that I was blessed to experience. It was also the hardest and most rewarding year of my life."
Both graduates agree that the A.B.S.N. program is one of a kind. They cite the diverse culture, top-notch curriculum, and excellent professors for helping mold them and all the other students into strong leaders. "We have been prepared to transform lives, bring forth change for a healthy and strong community, and provide the best possible health care to our patients," says Espinal.
The mother and daughter also share the same vision of what it means to be a nurse. They say it's not only your knowledge you impart to your patients, but its your compassion and love that you provide in caring for your patients. They both believe the nursing profession carries a huge responsibility to provide safe and appropriate care in order to help patients be at their optimal health.
The two have spent the time since commencement interviewing at hospitals across South Florida and trying to decide what's next for both. While their decisions are not yet final, they know for sure that, after sharing an educational journey, they intend to experience their nursing careers together, too.