ALEC CHAO, B.A. '22, LOOKS BACK TO TWO COMMUNITY-ENGAGED LEARNING COURSES HE TOOK AT THE UNIVERSITY AND TRACES A CLEAR LINE TO HIS JOB WITH THE U.S. DEPARTMENT OF HOUSING AND URBAN DEVELOPMENT IN WASHINGTON, D.C., WHICH HE BEGAN SEVEN MONTHS AGO.
Tightly woven into the fabric of one of the courses were regular meetings with the Overtown Community Champions, a group of residents and advocates for families living in one of Miami's most historically underserved neighborhoods—one literally severed by the construction of the I-95 expressway. Chao and other students gathered oral histories of residents and engaged with them about issues of climate-based gentrification and displacement.
"Through the interactions, there was the critical matter of developing trust, getting to know the community and the problems they were facing in much more of an intimate way than I ever could have from a textbook or in the classroom," Chao says. "To learn about their lived experiences in real time was part of a unique, difficult, yet enriching process."
The experience for Chao, who grew up attending the best area schools and "never wanting for anything," was life changing and cemented his passion for "doing" history.
"I still have a lot of love and respect for these people who have lived either all their lives or a significant time of their lives in these communities and are willing to fight tooth and nail to stay where they live," Chao says.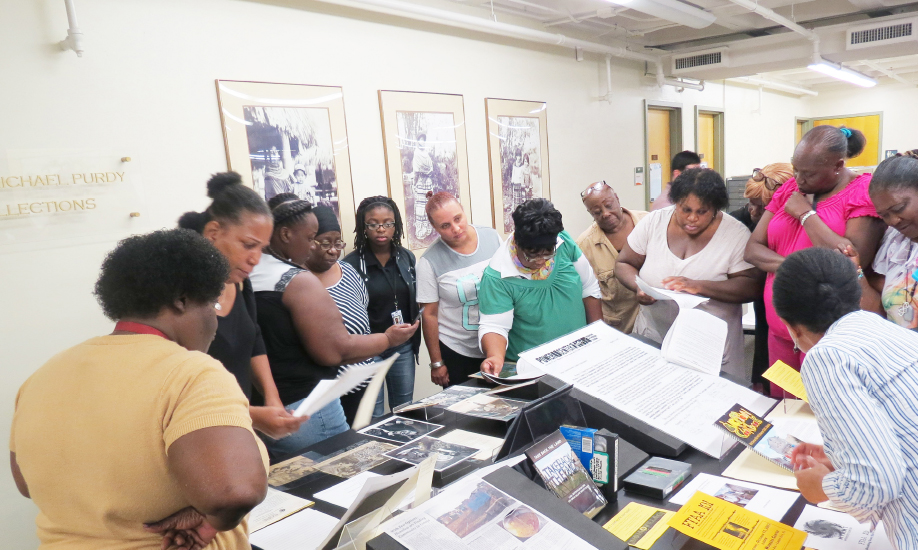 "A class like that provides a very important perspective for students like me who have lived all their lives in South Florida but knew none of that history," he adds. "And possibly even more for students who are from other states and places and don't know the community at all."
Chailin Lewis, a junior pursuing a major in political science and minor in sociology, and Mia Valente, a sophomore with the same major, this semester have undertaken community-based projects that explore affordable housing. Their projects stem from the coursework for "Urban Politics," taught by political science assistant professor Matthew Nelsen, whose research focuses on community empowerment.
Both Lewis and Valente transferred to the University from other colleges and grew up elsewhere. This semester the two are gaining firsthand knowledge of the affordable housing crisis—Lewis in Coconut Grove and Valente in South Miami—and its impact on real people's lives.
Robin Bachin, who in addition to being a history professor is also the founding director of the Office of Civic and Community Engagement (CEE), has long served as the quarterback for the University's community-based learning and civic engagement efforts. The CEE celebrated its 10th anniversary last year.
"We have tremendous resources and expertise throughout the University and are using them to address some of the most pressing problems facing our local community, including housing affordability and climate change," Bachin says. "By developing teaching, research, and institutional strategies that directly link academic scholarship and teaching to public practice, the University is helping to fulfill our mandate to produce the next generation of citizens who have the knowledge, skills, and values to be effective civic leaders and can reinvigorate our democracy."
Bachin recognizes that the interface of academia and communities—and the real-life problems and conflicts they reflect—can be challenging for students and any progress toward solutions can be painstaking.
"It is important that we do this work in a way that is mindful of the need to establish trust and longterm relationships with community partners," she urges. "We approach our community work through a commitment to collaboration and an ethic of reciprocity. That way our partnerships can be at once community engaged and equity minded."
In March, the University officially named and dedicated The George P. Hanley Democracy Center, which is named after philanthropist George P. Hanley and designed to be a campus hub where students and faculty members can convene and engage in discussions around politics and the future of democracy at home and abroad.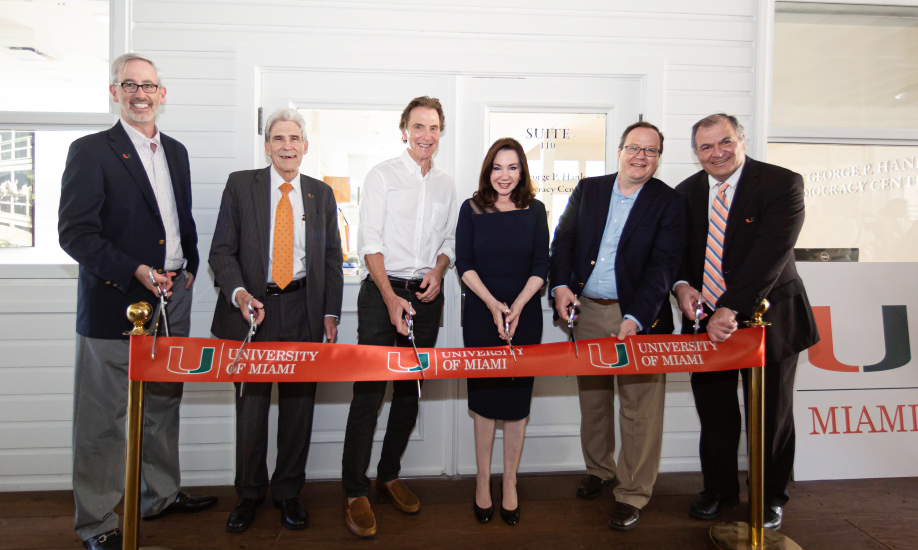 Greg Koger, center director and professor and chair of the Department of Political Science, emphasizes the opportunity for students to research, organize, and attend the center's events and efforts.
"The civic synergy discussion groups are intended to give students the chance to participate in policy deliberation across party and ideological lines and to try to generate common sense solutions," Koger explains.
Interns and researchers garner firsthand experience working with Koger to establish the center's online presence, organize discussion groups for students, and help students apply for internships in public affairs.
Thirty students applied to form the first Hanley Democracy Center intern cohort. And Antonella Criscola, Emily Danzinger, and Lauren Ferrer and student researchers Nayonika Choudhury and Carly Payne were selected based on their impressive records of engagement and participation.
The Concordia Americas Summit was hosted in May for the second time by the University, which this year also served as a principal programming partner. The partnership between Concordia and the University extends through 2025.
Over two days, University specialists representing a number of schools and units participated on panels together with leaders of the public, nonprofit, and private sector across the Americas. They shared insights on the most challenging issues in the hemisphere and sought solutions on health care, education, trade, security, women's involvement, and economic vibrancy, among others.
President Julio Frenk participated on multiple panels and moderated the session "Climate Reslience's Ground Zero: Miami Seas," which featured University experts including Rodolphe el-Khoury, dean of the School of Architecture, and Katherine Mach, professor in the Department of Environmental Science and Policy at the Rosenstiel School of Marine, Atmospheric, and Earth Science.
Students especially welcomed the opportunity to explore the changes and evolution of the post-pandemic period with some of the most innovative thinkers in the Americas.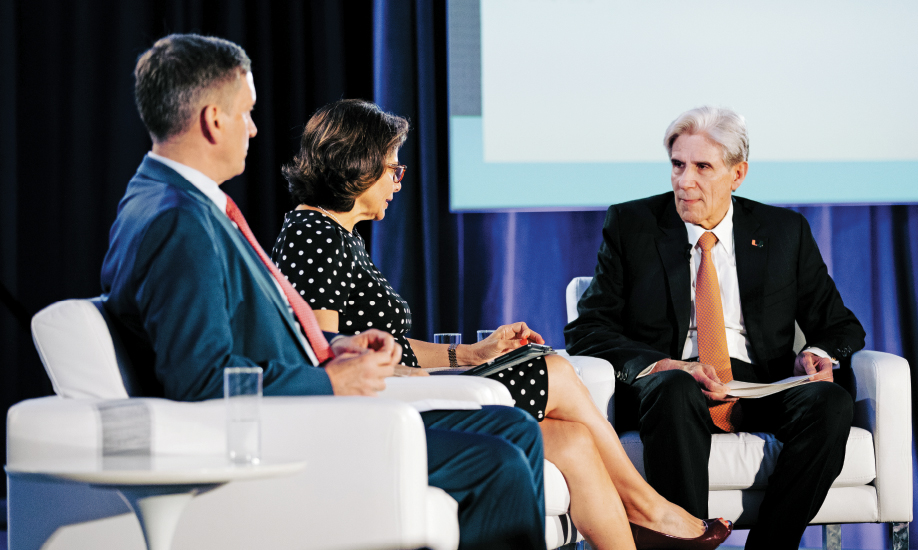 Kathi Kern, vice provost for educational innovation, explains that these emerging educational modalities geared to deepen learning fall under the umbrella of inquiry-based learning.
Community-engaged learning describes an academic institution's intent to partner in the community through city government, grassroots advocacy organizations, nonprofits, or local businesses and are like "inquiry-based learning on steroids," she says. Each semester, the University offers close to 100 community-engagement courses for students, tagged as CIVIC in CaneLink.
We want to expose them early on to the big questions and the vexing problems.
"For so long, universities could be seen as entities that selectively engaged in the community when it was useful for them, rather than the sense that we're here in a specific place and landscape, and that we are an intellectual generator—bringing and attracting smart people, working on problems, and teaching students," Kern says.
She often emphasizes to new faculty members the notion that they're not "portable."
"It's important to appreciate that we are being supported and sustained in a place and that, as a university, we have a relationship and responsibility to the place where we are," Kern says.
The paradigm shift that community-engaged learning brings is the understanding that community members are very capable of articulating their own problems and that they probably have a lot of ideas, knowledge, and problem-solving abilities, according to Kern.
Both university and community should recognize the assets they bring to the partnership, while trust is the foundational ingredient, she emphasizes.
"We're trying to build trust in the relationship even before we ever introduce students into a situation," Kern says. "It's important that as a faculty we do that work and also that we talk to our students about it.
"The opportunity in community-engaged learning is for students to be able to try out some of the theoretical knowledge that they're gaining in a real-world setting with real people," she continues. "But we don't have all the answers and it's easy for that to go wrong."
Kern contrasts the sustained, trust-building work often of multiple partners to address a complicated social ill— community-engaged learning—to the episodic, one-shot work of "community service," such as cleaning up a park on an afternoon. Both have value, but they're very different.
Through the umbrella of inquiry-based courses, the intent is to rethink how we bring students into the academic disciplines.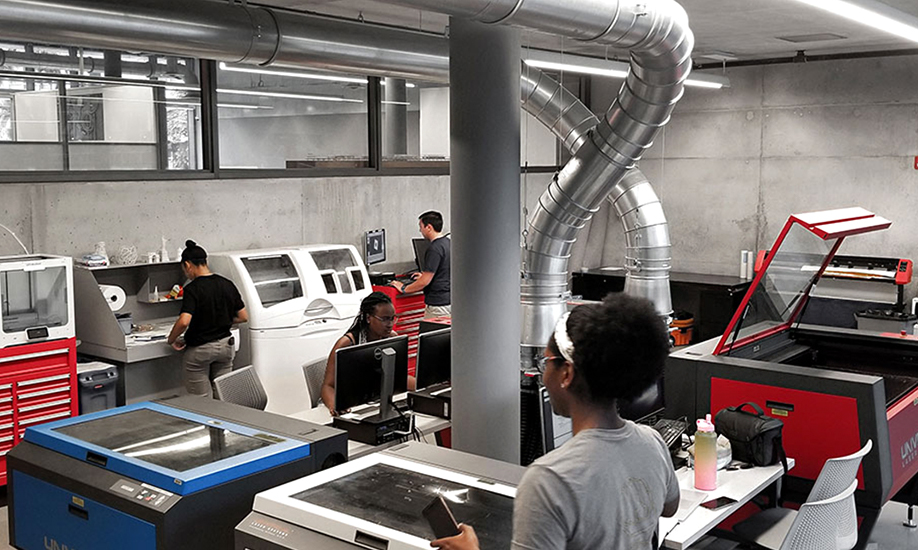 "Ultimately, we're trying to pull back the veil on education for students and engage them right away in handson academic work. Traditionally, in some fields, the assumption has been that students didn't know enough to do their own analysis. So faculty would do it for them and point to a distant 'capstone project' in the student's future, essentially saying, 'Pay attention, you will need to do this in the end,'" Kern says. "Instead, we're trying to engage students in an apprenticeship where we expose them to the disciplinary values, the habits of mind, and the kinds of critical tools at their disposal—and let them go to work."
In that regard, she and many faculty view the undergraduate experience as a journey.
"Are you going to get a map of the journey at the very beginning? That seems like a good idea, rather than presenting students with what might feel like a list of random requirements," Kern says. "We want to expose them early on to the big questions and the vexing problems, including the way that interdisciplinary work intersects or sometimes conflicts."
She highlights the Climate Resilience Academy as a prime example of this aim come to fruition. "Eleven different faculty have all been filmed about their research on climate," says Kern. "Students watch and come together for a three-hour class to get hands-on challenges to do with faculty," says Kern.
"The University is a hidden gem," Kern adds. "Our students love our faculty. They believe their professors really care about them and that they're amazing. Whether it's working in the Fab Lab in architecture, modeling the VR initiative, helping to build part of the UM metaverse or doing oral histories in Overtown, as a young person you're not just a sponge to absorb. You are part of the project of constructing new knowledge."